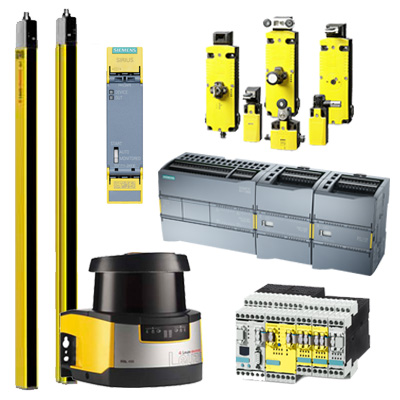 Safety Products
Whether it's OSHA's 29 CFR 1910, NFPA 70E IEC's 62061, ISO's 13849-1 the requirement to design manufacturing equipment that increases productivity while providing the highest level of quality and safety for workers is mission critical. PCC has the machine safety products and application knowledge to help meet your organization's objectives. PCC's machine safety portfolio is comprised of leading manufacturers such as Siemens, Carlo Gavazzi, Cementex, Larco, Leuze, IDEM Safety Switches, Meltric, and Velox. providing fail-safe PLC & distributed I/O, safety strips, light barriers, light curtains, laser scanners, PROFIsafe, ASI-Safe, safety relays and switch rated plug & receptacles technologies.
Featured Machine Safety Products
Machine Safety Product News
By Tim Parmer, Siemens Energy and Automation Safety PLCs combine the functionality of a control system with a safety system in one controller platform, allowing manufacturers to greatly reduce machine life cycle costs. An advantage of...
read more
Manufacturers in all segments of industry are constantly seeking methods to improve the safety of their workforce. One area of focus is the reduction of hazards associated with arc flash events. Every year, 175 people in the US are killed...
read more