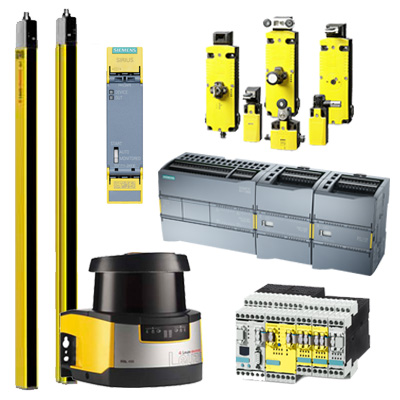 Safety Products
Whether it's OSHA's 29 CFR 1910, NFPA 70E IEC's 62061, ISO's 13849-1 the requirement to design manufacturing equipment that increases productivity while providing the highest level of quality and safety for workers is mission critical. PCC has the machine safety products and application knowledge to help meet your organization's objectives. PCC's machine safety portfolio is comprised of leading manufacturers such as Siemens, Carlo Gavazzi, Cementex, Grace Technologies, IDEM Safety Switches, Larco, Leuze, Meltric, Pizzato and Velox. providing fail-safe PLC & distributed I/O, safety strips, light barriers, light curtains, laser scanners, PROFIsafe, ASI-Safe, safety relays and switch rated plug & receptacles technologies.
Featured Machine Safety Products
Machine Safety Product News
The Leuze Safety Radar systems are composed of a control unit and up to six smart radar sensors: high flexibility, from simple to complex scenarios. Configuring the system is quick and easy, thanks to the user-friendly configuration software. Guided validation procedures and the simple generation of the configuration report complete each installation.
read more